The Importance of a Home
Home means many different things to many different people. For some it is the ultimate comfort, and for some the idea brings up painful memories of the past. Nonetheless, we all need shelter. A place to go when the elements are at their extreme, when your bones are heavy and our brains are fried. Home should be your sanctuary from the chaotic and unpredictable world around us. If only just a small room or corner in your home can truly be yours, that small slice of space can provide immeasurable comfort.
When people envision their dream home, they are often dreaming of just that space, but on a larger, grander scale. Maybe a whole house, just theirs. In their style, with their favorite things. Yes, we all have different ideas of what our dream house will be and yes it inevitably evolves over time. But the desire to find, possess and feather a nest is inarguably innate.
In today's online world of real estate, you would think it would be easier than ever. Never before have we had so much information at our disposal. Never before have there been so many options, so many possibilities, so many ways of going about securing our next home. But with great power, comes great responsibility, said by, I believe, the great teacher of the Jedi, Yoda or maybe it was Spiderman? Or Churchill? I'm not really sure... But what I do know is that while we have the data, and the power, we also now have huge sense of overwhelm. Where to begin, what to do, who to trust, how to decide, oh my gosh, why even bother? The obstacle seems almost insurmountable. The pain of making so many decisions, all interrelated, all life changing, all potentially risky and all very scary.
Starting Your Search Online
It's no wonder many people spend hours and hours online looking at real estate these days and never take the next step, the leap into the unknown. The consumer websites like Zillow and realtor.com track these statistics and the amount of time people spend looking at homes online is truly astounding. Even for me, who makes a living, out of combing the MLS for opportunities, day in and day out.
I have had countless clients tell me they literally had to delete these apps from their phone and unsubscribe from the drip emails from these companies once they were under contract with their new home. The addiction is real. How could it not be? It's like voyeurism, cosplay and HGTV in your brain, all wrapped up into one neat and tidy, free, well-designed UI. There is no harm in looking right? Except, maybe the constant scrolling can lead to suffocating indecision, FOMO and constantly questioning what is the next right move.
I've been there. I go there almost every single day. I've been living in my home for almost six years now and there hasn't been a day where I wondered if we should be somewhere else. I love my home. It's my dream home that I never imagined I would actually own. It's not the biggest house, and it's not the newest. But it has a great layout and its in a fantastic neighborhood. When we bought it, it was a bit stretch for us financially. But we wanted to put our kids in the best schools we could find and this house was in that school district. We are very design focused, and we personally love modern, minimal design. This house was none of those things. It was traditional through and through. But the neighborhood is where we wanted to be, the garden was mature and gorgeous and it just so happened we could actually afford it, with some negotiating. So we took the plunge knowing we'd need to do some major renovations to make it work for us.
Envisioning the Future Potential
This is where vision comes in and it is not as easy as it sounds. Looking at the photos online did not inspire me emotionally. This was not my dream house. This is not what I imagined to be the home where I raised my children. I was 6 months pregnant, and living in an apartment where people still partied all night (loudly) on a Tuesday, so a decision had to be made!
We had sold our previous house, which is an entirely different story, which I will leave for some other time, with the idea of relocating to another city. However, with our surprise baby on the way, the comfort and support of my incredible doctors at Piedmont OBGYN, the ease of knowing the in's and out's of this city, and all the love and support of our friends here made it irresistible to stay.
So here I was. I will never forget the exact moment when we finally decided to "pull the trigger." It was our final day of due diligence and of course we were out of town. My husband had the beautiful idea of taking me and our 2 year old daughter back to the island where it all started seven years before, St Martin. A gorgeous, jaw-dropping natural beauty with a French accent and fresh croissants, this was definitely my idea of a dream. So there I sat, overlooking the crystal clear aqua waters from the balcony of a casual French restaurant, my daughter squealing with delight over the shiny fish glinting in the sun beneath us, my husband sipping on a complimentary fruity cocktail from the ridiculously nice and welcoming owner of the restaurant. We could stay here forever I thought. Build a house up on the hill over there. It would great! Until hurricane season came. Then that would be stressful. And what about the schools here? Do they even have schools here? I'm sure they do. Of course they do. But why? Who would possibly want to go, or even be able to go to school when nature's playground is right there lapping quietly at your sandy toes? I didn't know what to do. So of course, I looked at those photos online, again. Oh my god. This was not my dream home.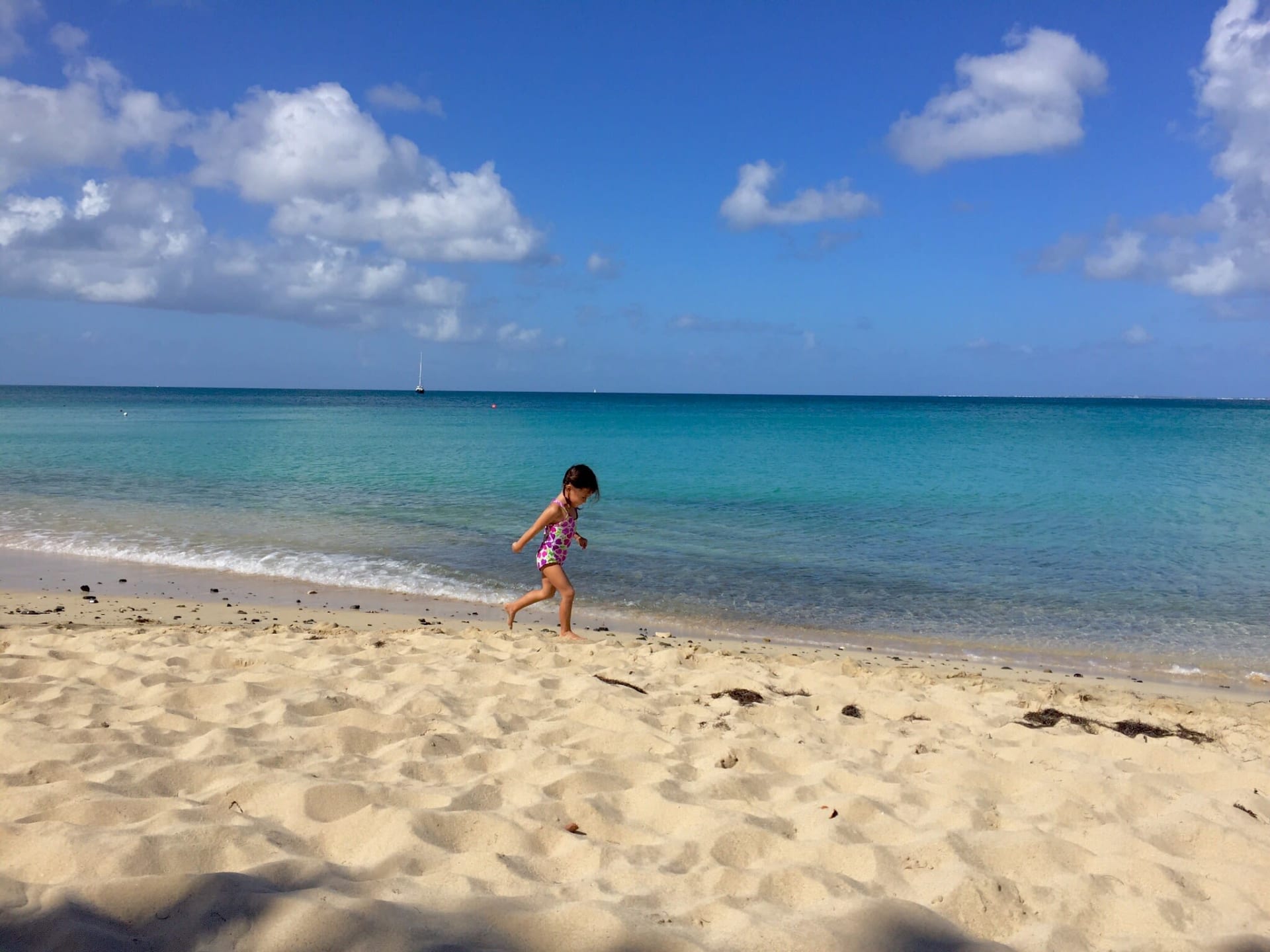 St Martin, Le Esplanade 2015
Location. Location. Location.
Fortunately, we had experience in this. We had built an entire house ground up just a few years before. We knew contractors. We knew materials costs, we knew what we liked and what we didn't like. We know we could renovate this house and make it exactly what we wanted. It would just take a little bit of time, a little bit of elbow grease and a big chunk of money. I thought about the adorable school in the heart of the neighborhood. It was a dignified, old brick building nestled among tall pine trees. I had very randomly drove past it one day a few weeks earlier, subconsciously scouting for "for sale" signs in the neighborhood. I knew this was our school. The bell had just rang signaling the end of the day and I saw parents walking with their kids home, book bags happily dragging along, puppies yapping and strollers rolling. It was just how I imagined school would be for my daughter one day.
Morningside Elementary, Atlanta Georgia 2019
So what did I do? I pulled up the speadsheet I had created on my phone and of course started scrolling through the list of projects we needed to do. As anyone who has ever attempted a renovation knows, there are always "must have" projects and "nice to have" projects on a renovation endeavor. However, properly categorizing these projects into these buckets is the tricky part. What is a "must" for you is often a "nice-to-have" for your partner, and a trade-off between one "must" and four "nice-to-haves" for the same amount of money is often a tough call. Each line item is a moving target based on material selection and labor costs. Every decision is a financial decision, but also a design decision. Each decision affects other decisions and it all has to work together to come out as a cohesive, on-time and on-budget success. With so many variables, it is easy to get overwhelmed. Which is why I think most people stop right there and categorically say, no, we are not open to doing renovations.
Rightly so. Even if you had the means, the time, the energy and the desire, you still may not want to go this route. It is infinitely easier to buy the finished product. It can all be wrapped up into our new mortgage. You just bring your boxes and get to the fun stuff like decorating and entertaining. Yes. I get it. So why even bother?
The Benefits of Renovating
Well, if you are like us, we have very specific taste and preference when it comes to design. We also have very high standards when it comes to workmanship and quality. If something is not exactly straight, or sloppily done, it will irritate us to no end. We both have the same long-term mindset as well. Neither of us are interested in building something today, for it only to fall apart in a few years. We are interested in building lasting, quality spaces. That can be enjoyed a lifetime and that will stand the test of time in design.
And yes, there are homes that are like this already. They are called unicorns. They exist but they are pretty hard to come by, especially at a good price. Being a very young family, we had a limited budget. Or what some would call a "creative constraint." Having a background in real estate, I knew that all the upside comes from the execution of a vision. Being able to see what could be, from what currently is, is a skill. It's a combination of knowing your options, developing relationships with craftsman and leveraging the power of great design. Combined, you can take a fugly house with good bones and make it into a covetable home.
The benefits of this approach are two fold. One, you get the exact house you want. You get to oversee the quality and selection of materials used. You get to choose how and what you want to be done, and when. It's like a custom tailor, or if your budget allows, haute couture, for your home. Choosing an existing home, in an existing neighborhood, also usually affords a premium location. In my experience, the best lots with the best views and the best access to neighborhood amenities are almost always already developed in some capacity. The second benefit, is that because you are taking on the risk, and you are taking on the responsibility of bringing the property up to modern standards, you should be getting a great price on the initial purchase. When properties aren't updated, they generally, in a normal market, don't sell for a premium. In fact, they often sell for below market price, which is typically their asking price. Especially if they have been on the market for a substantial amount of time.
This obviously presents an opportunity for those looking to create value and maximize profit on their exit. Of course, you may never sell the property, and that has many benefits as well. But if you do, as most people don't keep properties forever, you will be capturing that value down the line, on top of any additional annual appreciation.
So there's yet one more option, for potential home buyers to consider. But another option only leads to more confusion, unless you have someone to guide you through the process.
What Should I Do?
I've seen so many people with the "deer in the head lights" look on their face in my career as a real estate agent. It has been my honor and privilege to help so many individuals and families through this exciting but nerve wracking process. Each and every situation is different, and requires a unique solution. My experience, familiarity with the things to look out for and deep market knowledge, form the foundation of what I offer to those looking to make the leap into home ownership, and beyond. My curiosity is seemingly unending, and I'm constantly learning more and more about every facet of this industry. Real estate is my passion and unlocking its mysteries is my life's work. I truly believe, home is a sacred place, where everything begins and where everything should end.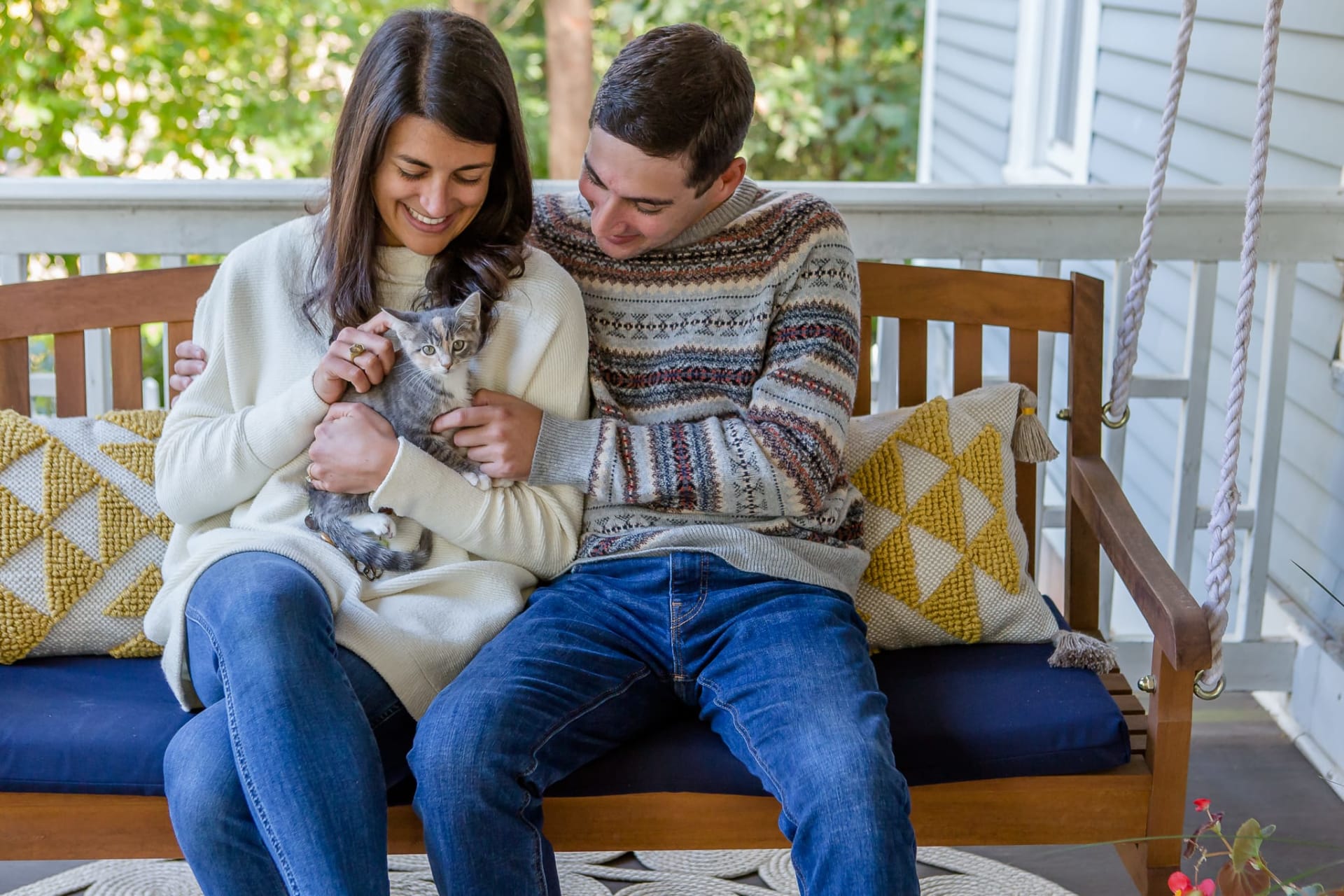 Kinsey & Ethan with their new kitten
I bring a wealth of knowledge and expertise to my select clients, who share the same vision and values. (Like Kinsey & Ethan, above enjoying their amazing front porch in their first home together in Candler Park.) Yes, I am a real estate agent, and yes I'm paid on commission based on the sales price of the home at it's closing, but I don't ever look at it like that, and I'm not purely motivated by the money. What excites me, and gets me going in the morning is the possibility of creating something amazing, with people I care about and helping them get closer to the amazing feeling of being at home, in comfort and joy.
Home truly is my happy place, and my wish is for it to be yours as well.
With love,
Jessica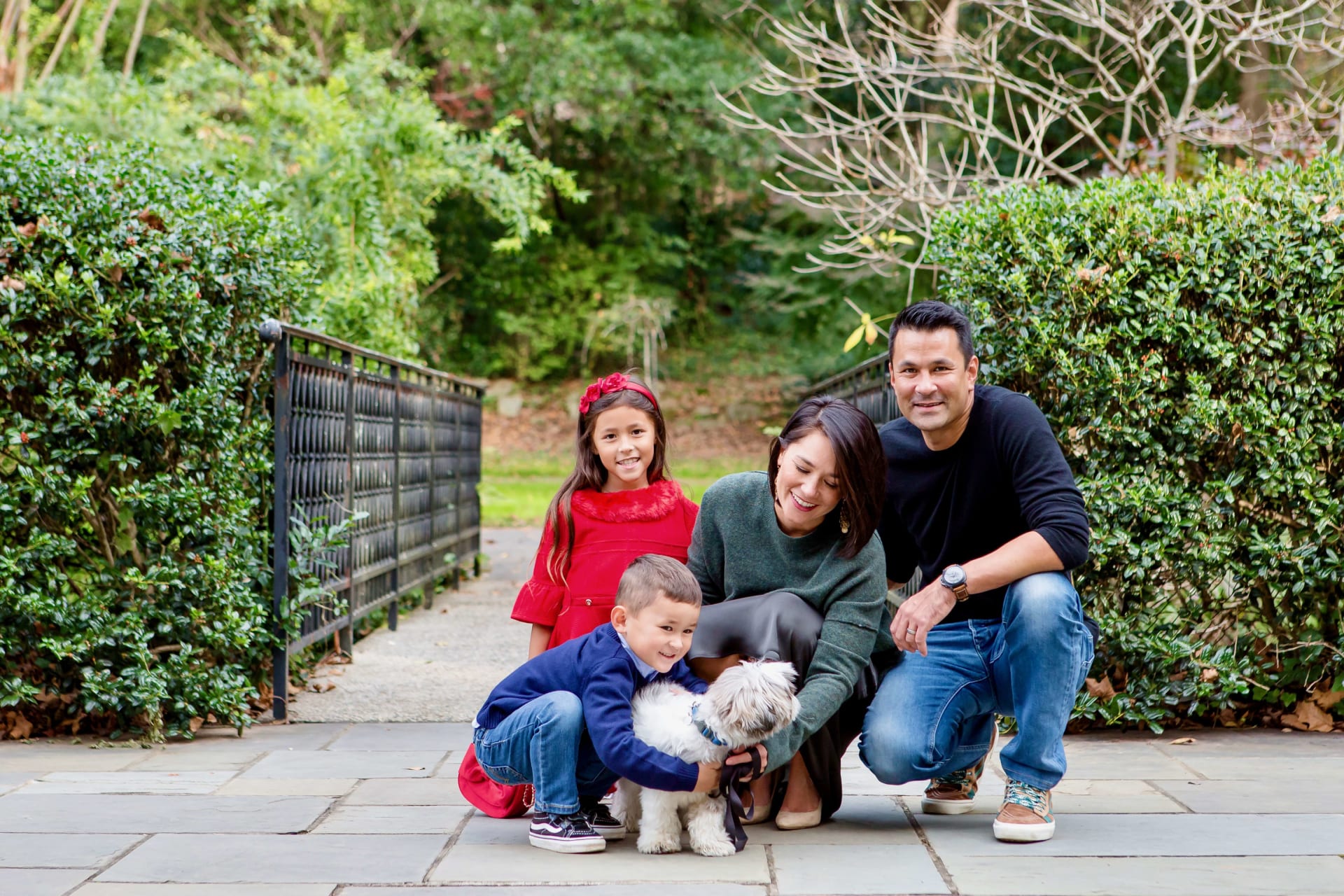 Me and the fam with our beloved but very naughty, Shih Tzu, Leo.